Bakery - Your Destination for Delicious Baked Goods
Apr 21, 2020
Bakery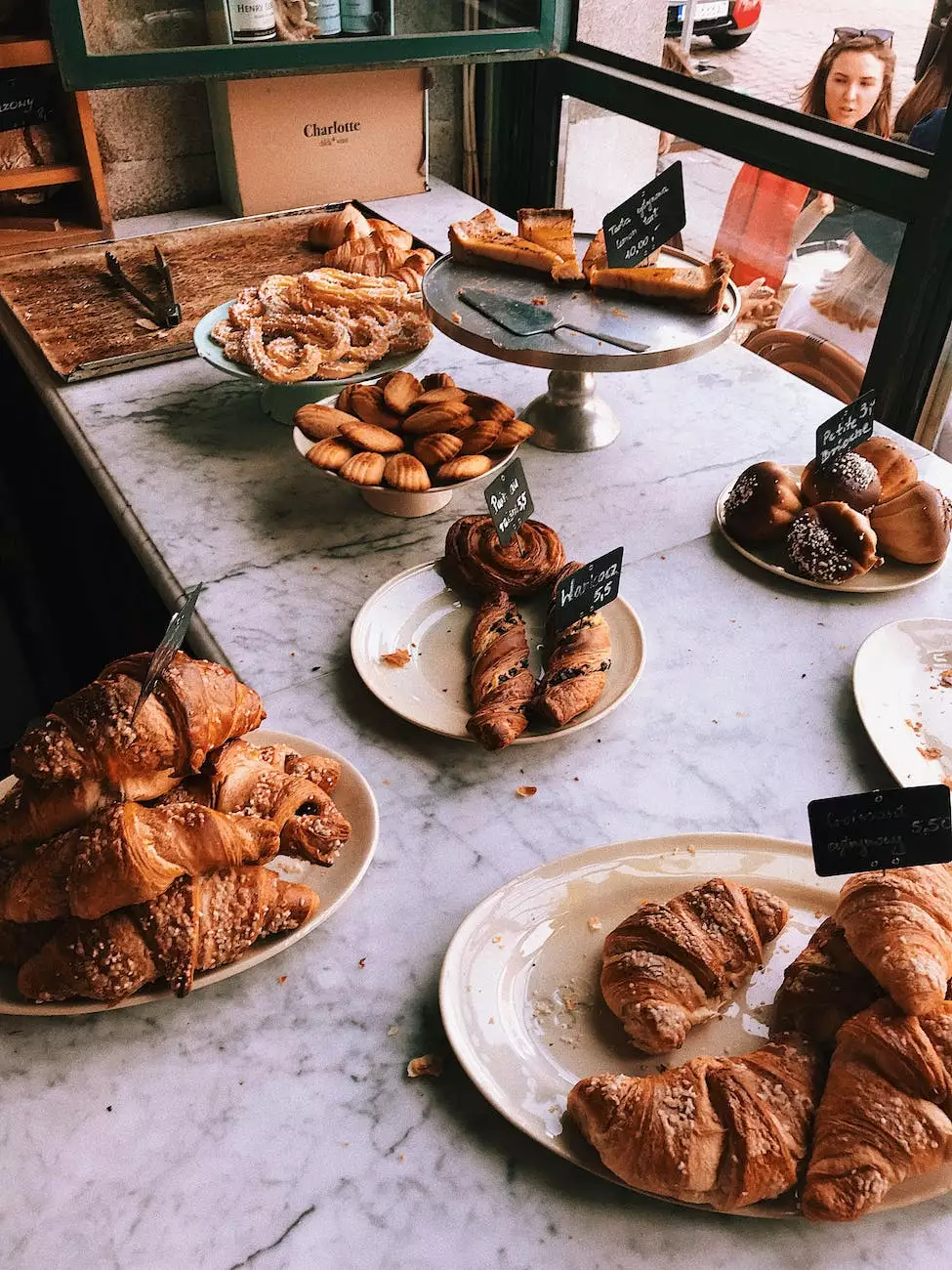 Indulge in Freshly Baked Bread
At White Wagon Coffee Roasters' Bakery, we take pride in offering a wide selection of freshly baked bread that will leave you craving for more. Our skilled bakers combine traditional techniques with high-quality ingredients to assure you of the best taste and texture in every bite.
Choose from classic options like whole wheat, sourdough, or French baguettes, or try something unique and experimental, like our cranberry walnut loaf or jalapeno cheddar bread. Whatever your preference, our bakery has the perfect bread to make your meals truly exceptional.
Delightful Pastries and Sweet Treats
Step into our bakery and get ready to be mesmerized by the sight and aroma of our decadent pastries and sweet treats. Our talented pastry chefs craft each item with utmost care and creativity, bringing you a range of delightful indulgences.
Indulge in buttery croissants that melt in your mouth, sink your teeth into a rich chocolate éclair, or savor the flaky layers of a fruit danish. Our selection also includes gourmet cupcakes, macarons in a variety of flavors, and cookies that are perfectly baked till golden perfection.
A Feast for the Senses
At White Wagon Coffee Roasters' Bakery, we believe that a visit to our bakery should be a feast for all your senses. Our meticulously designed display showcases the beauty and artistry that goes into every baked good we create.
As you walk through our doors, you'll be greeted by the mouthwatering aroma of freshly baked treats. The sight of our indulgent pastries will make your eyes light up, and the first bite will transport you to a world of flavors and textures that satisfy even the most discerning taste buds.
Customized Cakes for Every Occasion
Make your celebrations extra special with our customized cakes that are tailored to suit your unique preferences and occasions. Whether it's a birthday, anniversary, or any other special event, our talented cake artists will bring your vision to life.
From elegant wedding cakes adorned with intricate designs to themed birthday cakes that will bring joy to your loved ones, we go above and beyond to create edible masterpieces that not only look stunning but also taste unforgettable.
Unmatched Quality and Care
At White Wagon Coffee Roasters' Bakery, quality and care are paramount in everything we do. We source the finest ingredients from trusted suppliers, ensuring that each bite you take is filled with exceptional flavors.
Our commitment to freshness means that our products are made in small batches, allowing us to pay attention to every detail and deliver the highest quality goods to our customers. We believe that every visit to our bakery should be an experience worth savoring.
Visit Our Bakery Today
Located at the heart of White Wagon Coffee Roasters, our bakery is ready to greet you with irresistible treats and warm hospitality. Whether you're looking for the perfect accompaniment to your morning coffee or a beautiful cake to mark a special occasion, we have something to satisfy every craving.
Experience the joy of indulging in freshly baked bread, pastries, and customized cakes made with love and expertise. Visit our bakery today and discover why White Wagon Coffee Roasters' Bakery is the destination for the finest baked goods in town!