Mobjack Petite Cafe Menu
Mar 5, 2019
Bakery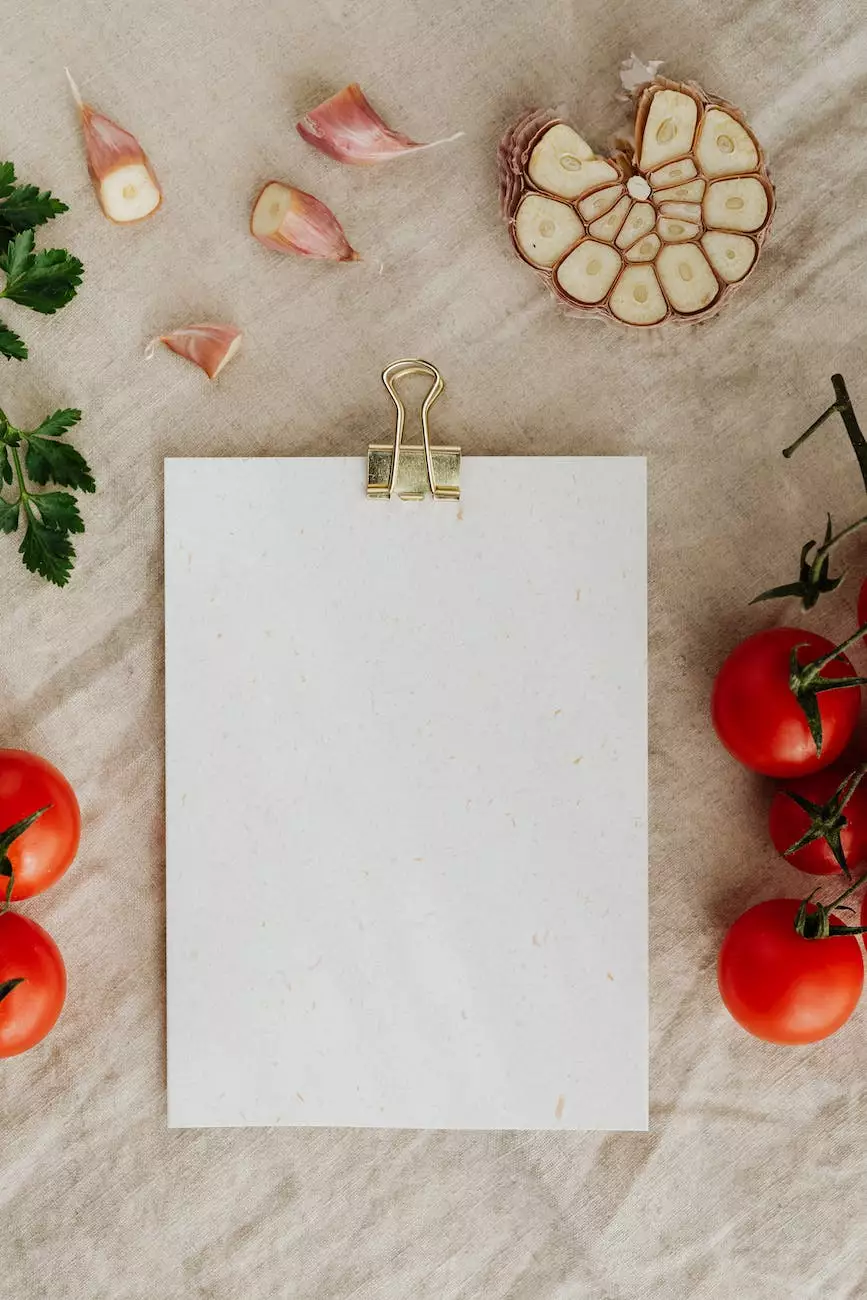 Discover the Delectable Flavors of Mobjack Petite Cafe
Welcome to Mobjack Petite Cafe, an integral part of White Wagon Coffee Roasters! Our menu has been carefully curated to satisfy your cravings through a delightful culinary experience. We offer a wide range of mouthwatering dishes and beverages that will leave you wanting more.
Start Your Day With Our Breakfast Specials
Begin your day on a delicious note with our breakfast specials. Indulge in fluffy pancakes topped with ripe berries and drizzled in maple syrup. Savor the delightful aroma of freshly baked croissants, perfectly buttered and flaky, just waiting to be devoured.
If you prefer something heartier, try our breakfast burrito filled with scrambled eggs, crispy bacon, and a blend of cheeses. Pair it with a cup of freshly brewed coffee or a refreshing fruit smoothie for a complete morning meal.
Delicious Lunch Options to Satisfy Your Appetite
Join us for lunch and explore our diverse menu offerings. Our selection includes gourmet sandwiches crafted with artisanal ingredients and served with a side of perfectly seasoned fries. Choose from mouthwatering options such as the classic Reuben, the flavorful Caprese, or the savory BBQ pulled pork.
For those seeking lighter fare, we offer a variety of vibrant salads packed with fresh, crisp ingredients. Delight in the Mediterranean salad with juicy tomatoes, tangy feta cheese, and kalamata olives. Or opt for the refreshing Asian sesame chicken salad, complete with crunchy vegetables and a zesty dressing.
Experience an Evening of Culinary Bliss
As the day moves into evening, Mobjack Petite Cafe transitions into an elegant dining destination. Indulge in our captivating dinner options that showcase the finest ingredients and culinary expertise.
Start your dinner with tantalizing appetizers such as crispy calamari served with a vibrant marinara sauce or a delicate bruschetta topped with fresh tomatoes, basil, and a balsamic glaze. As for our main courses, we offer delectable options ranging from perfectly cooked ribeye steaks to succulent salmon fillets.
Pair your meal with a handcrafted cocktail created by our skilled mixologists or choose from our extensive wine selection to complement the flavors and enhance your dining experience.
Coffee and Desserts to Delight Your Senses
At Mobjack Petite Cafe, we take pride in our exceptional coffee, hand-roasted by White Wagon Coffee Roasters. Our baristas are passionate about delivering the perfect cup, whether you prefer a velvety latte, a bold espresso, or a refreshing cold brew.
Don't forget to save room for dessert! Indulge in our heavenly creations, such as our rich chocolate mousse topped with fresh berries or our warm apple pie served à la mode. The perfect sweet ending to your dining experience.
Visit Mobjack Petite Cafe Today
Ready to experience the scrumptious flavors of Mobjack Petite Cafe? We invite you to visit us at White Wagon Coffee Roasters and embark on a culinary journey like no other. Our attentive staff, cozy ambiance, and delectable menu await your arrival.
Whether you're looking for a satisfying breakfast, a leisurely lunch, an unforgettable dinner, or a delightful cup of coffee, Mobjack Petite Cafe has something to satisfy every craving. Join us today and treat yourself to an exceptional dining experience.